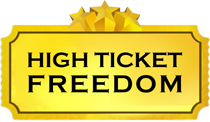 Congratulations, You Have Successfully Purchased The "High Ticket Freedom Academy!"

Please download, review, sign, and send back the contract below in order to begin the course.
Download this contract that applies to the package your purchased.

Sign contract, and then send to info@highticketfreedom.com
If we do no recieve signed contract within 24 - 48 hours, your membership may be cancelled and refunded.
Click Below To Download & Complete Your Contract For:

The High Ticket Freedom Academy