10 Reasons Why You Should Join The Inspiration Mastermind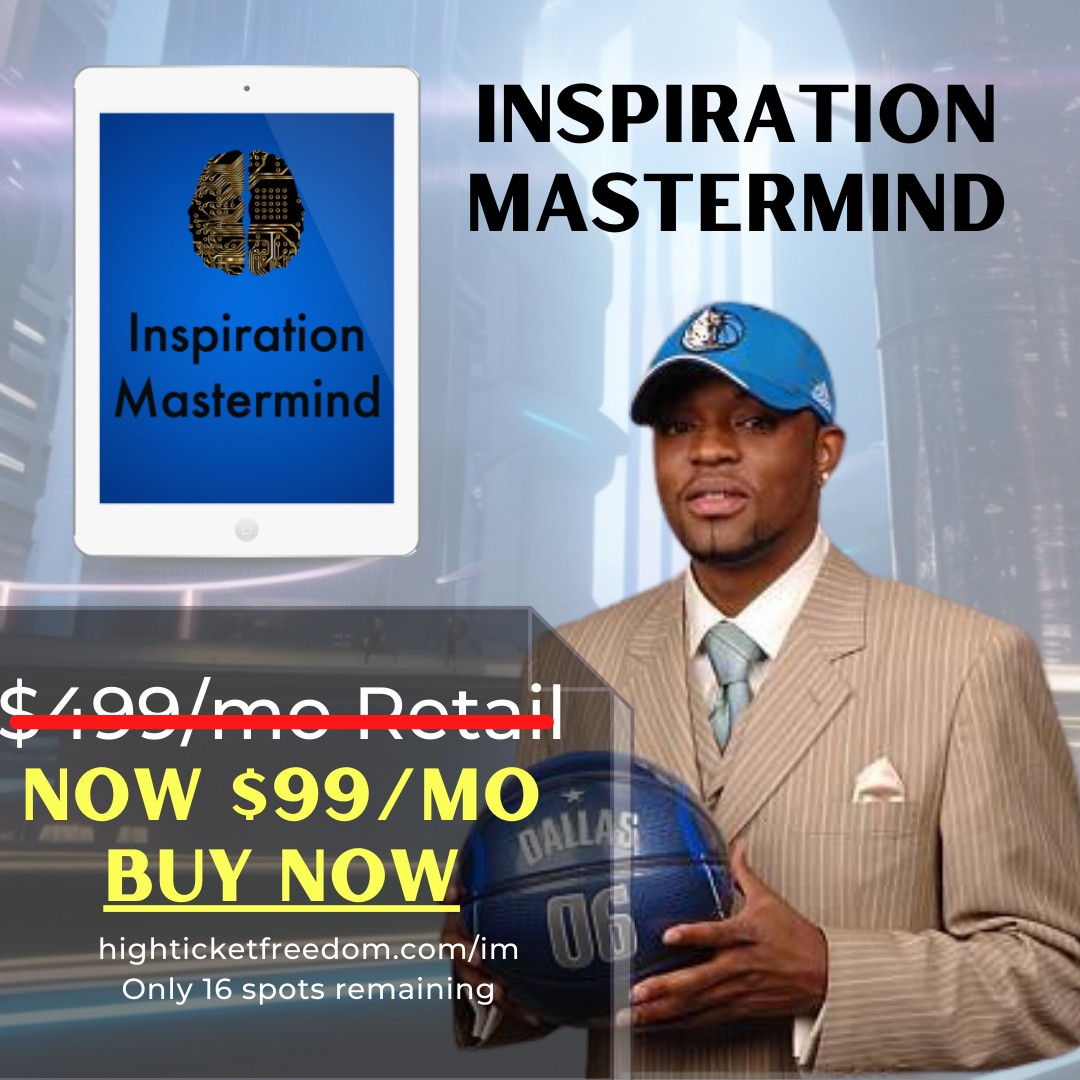 1. Personal and professional growth: Joining the inspiration mastermind as a member will provide you with an opportunity to learn from like-minded individuals who are focused on personal and professional growth. You can gain valuable insights, advice, and support from other members, which will help you reach your goals and achieve success.
2. Networking opportunities: Being part of the inspiration mastermind group will give you access to a network of successful and motivated individuals who are passionate about achieving their goals. This can lead to potential collaborations, partnerships, and employment opportunities, as well as expanding your professional network.
3. Accountability: A key aspect of a mastermind group is holding each other accountable for achieving personal and professional goals. By joining the inspiration mastermind, you will have a support system that encourages you to stay focused, motivated, and on track to reach your goals.
4. Diverse perspectives: The inspiration mastermind group consists of members from different backgrounds, industries, and areas of expertise. This diversity enables you to gain valuable insights and perspectives that you may not have considered previously, ultimately helping you make better-informed decisions and achieve success.
5. Problem-solving: The collective knowledge and experience of the group can be a powerful resource for solving problems and overcoming challenges. By joining the inspiration mastermind, you will have access to a wealth of expertise and ideas, which can help you find solutions to your challenges more effectively.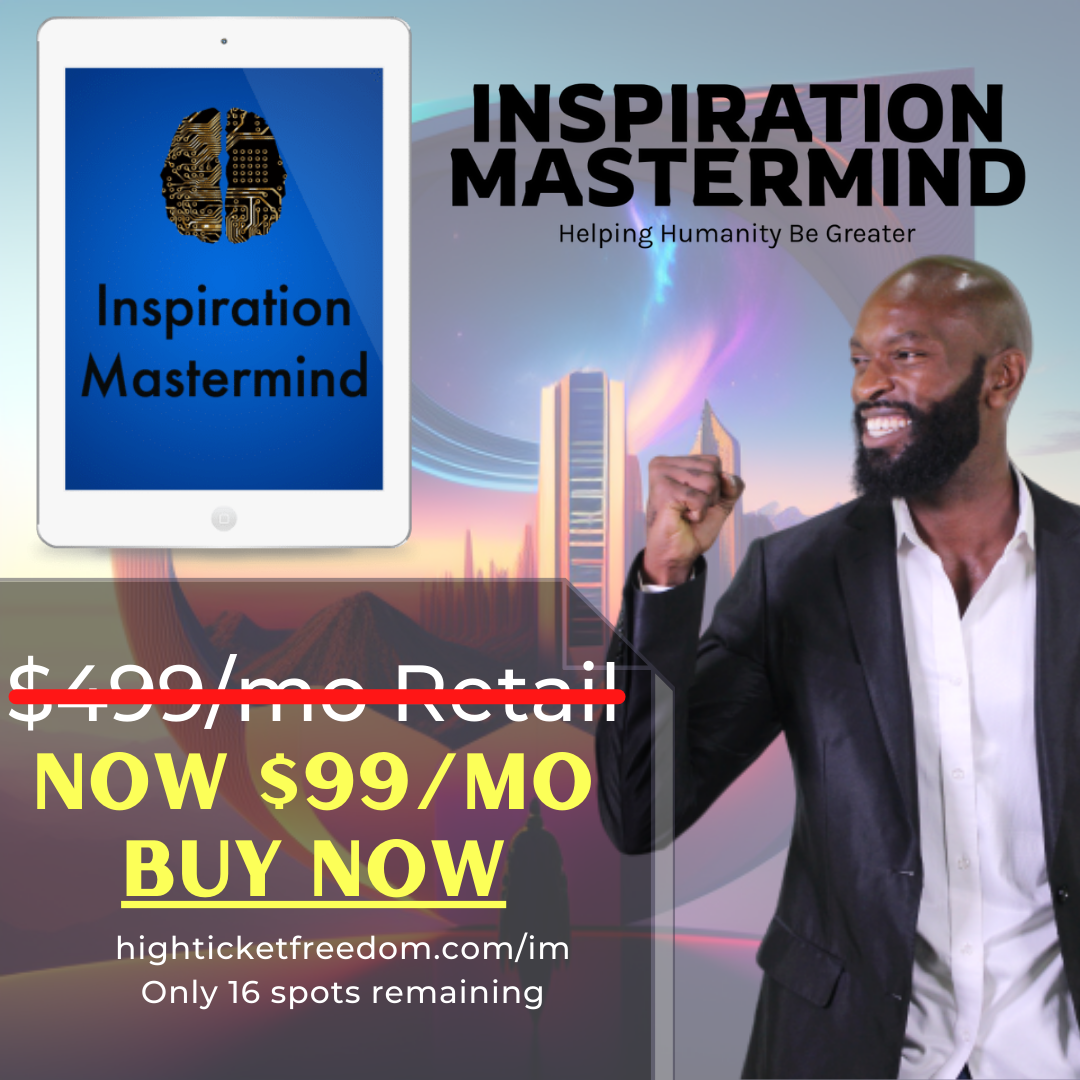 6. Emotional support: Pursuing personal and professional goals can be an emotional rollercoaster. By joining the inspiration mastermind, you will have a support system of like-minded individuals who understand your struggles and can provide encouragement and motivation when you need it most.
7. Skill development: The group's focus on personal and professional growth means that you can learn and develop new skills as a member. Whether it's improving your communication, leadership, or time management skills, the inspiration mastermind can help you grow and develop as an individual and professional.
8. Increased productivity and motivation: Being a part of a group that shares your goals and aspirations will help you stay motivated, focused, and productive. The inspiration mastermind can serve as a constant reminder of what you are working towards and help you stay committed to your goals.
9. Exclusive resources and opportunities: As a member of the inspiration mastermind, you may gain access to exclusive resources, tools, events, and opportunities that are not available to the general public. These resources can help you accelerate your growth and achieve your goals faster.
10. Personal fulfillment: Being a part of a group that is focused on personal and professional growth can be incredibly fulfilling. By joining the inspiration mastermind, you will become part of a community that shares your values and aspirations, and this sense of belonging can lead to increased happiness and satisfaction in your life.
If you want more help to become more inspired from within to live your best life possible, then I highly recommend that you join our Inspiration Mastermind today. 
Take full advantage of this special opportunity to learn from my proven experience and take your business to the next level.
Sign up for our free online training at https://highticketfreedom.com/im.
Remember, success is within reach.
With the right strategies and a smart work + hard work, you can achieve your business breakthroughs and build a profitable and sustainable business.
Start your journey to success today!
I'll see you on the inside, and in my next article.
Trusted online life and business coach,
Wholeness, high vibrations, and GREATNESS,
Michael "Overdeliver" Baptiste 
P.S. Please tap into our media channels and links below.
🎥 Subscribe For Videos 👉🏿 https://highticketfreedom.com/youtube/
🎙 Subscribe To Our Radio Show 👉🏿 https://highticketfreedom.com/radio
📓 Subscribe To Our Blog 👉🏿 https://highticketfreedom.com/blog
🖥 High Ticket Sales & Marketing Free Training 👉🏿 https://highticketfreedom.com/free-training
🗝 JOIN My Free FB Group 👉🏿 https://www.facebook.com/groups/highticketsociety
😍 Learn My Inspiring Story 👉🏿 https://highticketfreedom.com/about/
———————————————————————————
Follow & Like Our Movement:
YOUTUBE 👉🏿 https://highticketfreedom.com/youtube/
FACEBOOK 👉🏿 https://highticketfreedom.com/facebook
INSTAGRAM 👉🏿 https://highticketfreedom.com/instagram
LINKEDIN 👉🏿 https://highticketfreedom.com/linkedin