How To Get High Ticket Clients This Week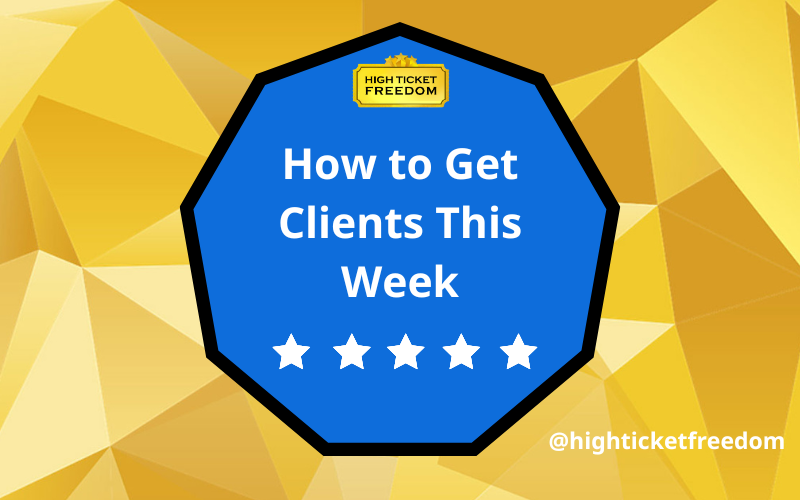 Are you struggling to find clients for your business?
Do you need to generate revenue quickly?
If so, you're in luck!
In this article, we will discuss proven strategies that will help you get clients this week.
These strategies are urgent, meaning that they are designed to help you generate revenue quickly.
Understand Your Target Audience
Before you can start getting clients, you need to understand your target audience.
Who are they?
What are their pain points?
What solutions do you offer that can help them solve their problems?
Understanding your target audience will help you create messaging that resonates with them and shows them that you understand their needs.
Know The Marketplace and Research Your Competition
Once you understand your target audience, you need to research your competition.
Who are they?
What services do they offer?
How do they market themselves?
How can you be greater, and how can you be unique based on whats already in the market?
By understanding your competition, you can differentiate yourself and create a unique value proposition that sets you apart.
Offer a Time-Limited Promotion
One way to generate urgency and get clients this week is to offer a time-limited promotion.
For example, you could offer a discount for the first 10 clients who sign up for your services.
This creates a sense of urgency and encourages potential clients to take action quickly.
Use Social Media and Your Network
Social media is a powerful tool for getting clients quickly.
Use platforms like LinkedIn, Twitter, and Facebook to connect with potential clients, share your expertise, and promote your services.
Be sure to engage with your audience and provide valuable content that shows them the value of your services.
Do Joint Venture Partnerships with Other Businesses
Partnering with other businesses can help you reach a new audience and generate clients quickly.
Look for businesses that complement your services and reach out to them to explore partnership opportunities.
For example, if you're a graphic designer, you could partner with a web developer to offer a package deal to clients.
Cold Calling Businesses
Cold calling businesses involves reaching out to potential clients by phone without any prior contact or relationship.
While this approach can be daunting, it can also be an effective way to generate leads and get clients quickly.
The key to successful cold calling is to be prepared, confident, and respectful of the potential client's time.
Start by researching the company and understanding their needs and pain points.
Then, craft a compelling pitch that shows how your services can help them solve their problems.
Finally, be respectful of their time by asking if they have a few minutes to talk and offering to follow up at a more convenient time if they are busy.
Ask Old Clients for Referrals
Asking old clients for referrals is a powerful way to generate new business quickly.
Your past clients already know and trust you, so they are more likely to refer you to their friends and colleagues.
Start by reaching out to your old clients and reminding them of the services you provided and the results you delivered.
Then, ask if they know anyone who could benefit from your services and if they would be willing to make an introduction.
Be sure to thank them for their time and support, and offer to return the favor in the future.
Cold Outreach via Email and Social Media
Cold outreach via email and social media is another effective way to get clients this week.
Start by identifying potential clientele who fit your target audience and research their needs and pain points.
Then, craft a personalized message that shows how your services can help them solve their problems.
Be sure to keep your message brief, focused, and professional.
Avoid spamming or mass messaging, as this can come across as impersonal and unprofessional.
Instead, focus on building a genuine connection and providing value to your potential clients.
Finally, be sure to follow up with any potential clients who express interest or respond to your message.
This shows that you are proactive and committed to building a relationship.
Offer a Referral Program To Attract Affiliates
Referral programs are a great way to generate clients quickly.
Offer your existing clients a reward for referring new clients to you.
This creates a win-win situation where your existing clients get a reward and you get new clients.
Attend Networking Events With Intentions To Get Sales & New Business Opportunities
Networking events are a great way to meet new people and generate clientele quickly.
Look for events in your industry and attend them to meet potential clientele and partners.
Be sure to bring business cards and be prepared to pitch your services.
Follow Up with Potential Clients
Following up with potential clients is crucial to getting clients this week.
When you meet someone who is interested in your services, be sure to follow up with them promptly.
This shows them that you are interested in working with them and that you are proactive in your business.
Conclusion
In conclusion, getting clients this week is possible if you use proven strategies that generate urgency.
Understanding your target audience, researching your competition, offering time-limited promotions, using social media, partnering with other businesses, offering referral programs, attending networking events, and following up with potential clientele are all effective strategies that can help you get clientele quickly.
If you're looking for a proven system to attract high-ticket coaching clientele, then check our latest online course, AI High Ticket!
This online course teaches how to use the power of AI to help you grow your online coaching and consulting business.
With AI High Ticket, you can learn how to attract high-ticket clientele, develop a high-ticket coaching program, price it appropriately, and sell it with confidence.
Learn more and get started at: https://highticketfreedom.com/ai.
I'll see you on the inside, and in my next article.
Trusted online life and business coach,
Wholeness, high vibrations, and GREATNESS,
Michael "Overdeliver" Baptiste 
P.S. Please tap into our media channels and links below.
🎥 Subscribe For Videos 👉🏿 https://highticketfreedom.com/youtube/
🎙 Subscribe To Our Radio Show 👉🏿 https://highticketfreedom.com/radio
📓 Subscribe To Our Blog 👉🏿 https://highticketfreedom.com/blog
🖥 High Ticket Sales & Marketing Free Training 👉🏿 https://highticketfreedom.com/free-training
🗝 JOIN My Free FB Group 👉🏿 https://www.facebook.com/groups/highticketsociety
😍 Learn My Inspiring Story 👉🏿 https://highticketfreedom.com/about/
———————————————————————————
Follow & Like Our Movement:
YOUTUBE 👉🏿 https://highticketfreedom.com/youtube/
FACEBOOK 👉🏿 https://highticketfreedom.com/facebook
INSTAGRAM 👉🏿 https://highticketfreedom.com/instagram
LINKEDIN 👉🏿 https://highticketfreedom.com/linkedin