Today I want to go into a bit more detail with the webinar funnel because this funnel is the most powerful funnel you can apply to close in more high ticket clients into your business.
The funnel below that you see may be a little confusing, so in today's training – I'm going to do my best to break this funnel down and explain it to you.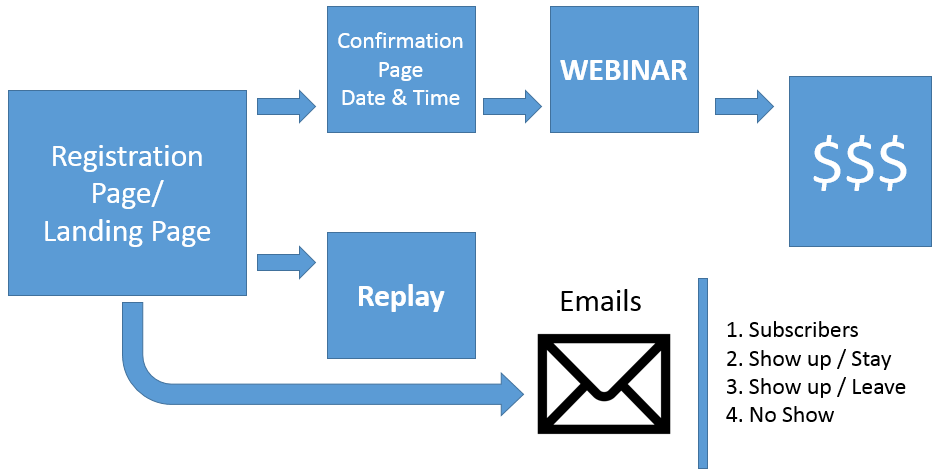 Step#1 Registration Page/Landing Page.
So first you need to create a landing page for your webinar using a marketing tool like Instabuilder, optimize press, Stealth seminar, or webinar jam.
And you're going to be sending traffic to your webinar with either the free traffic strategy, or the paid ads method we'll be diving into starting in week 3.
As you send traffic you're also going to want to re-target all of that traffic – and we'll talk about that in week 3. 
For now if you're going to set up your webinar registration page like this page here – http://bigclientcoaching.com/webinar-home
Your next step is going to be setting up your actual thank you page, or confirmation page once people register for your webinar.
Your thank you page should be simple and do a few things.
It should let people know what time and date your webinar starts, and if you want to get fancy – then you can create a video giving people a snippet of what your webinar is going to do for them.
From there you will actually put together the webinar using the 4 ways to craft your webinar which include:
Introduction
Content
Transition
Close
All of these steps are explained in the core training for week 2 – which I recommend you go back and watch.
Or take my webinar and literally model what I've done for your offer – and or business.
DO NOT COPY WORD FOR WORD.
Model what's already there for your webinars.
Once people register for your webinar you can also have a pre-recorded webinar which they go to automatically. 
In addition you're going to put together a few email swipes that will be sent out to your leads based on the actions they take.
You're going to have a general follow up series of emails which everyone is going to receive, you're going to have a follow up sequence in place for people who watch your webinar to the end but don't buy, a follow up in place for people who watch your webinar and leave early, and a follow up sequence in place for people who don't watch the webinar at all.
Inside of Stealth Seminar they have a feature that allows for you to integrate these custom email sequences based on people who show up, or don't show up to your webinars.
I recommend writing at least 3 emails for each sequence, and keep the emails short sweet, and to the point.